Singing Glasses
Why did the glass organ, extremely popular in the 18th and 19th century, almost completely disappear from the globe? The story goes that the thin, hypnotic sound of the singing glasses can bring about a state of trance. Some people would even have gone insane... 
Rogier Kappers, the Glass Grinder, collected hundreds of cognac-, wine-, beer-, champagne and port glasses, and built the only glass organ of the Netherlands. On his transport bike, he rambles around, showing up on street corners, village squares and festivals, enchanting his audiences with old and new songs -from Bach, Beatles and Brel- on the singing glasses.
About me
All my life, I've been fascinated by the etheric, mesmerizing sound of the singing glasses. It touches something deep inside me. Five years ago, at age 50, I decided to turn the wheel of my life, leave my succesful career as an international documentary filmmaker, and become a street musician.
I collected hundreds of glasses from second hand shops all over the country, all kind of shapes and sizes I have at home. Slowly, I started to build and rebuild the instrument, endless trying what works and what doesn't: fixating the glasses with glue, velcro tape, small magnets, a soundboard under it, or not...?   
My current glass organ (prototype 4) has nearly four octaves, 45 glasses, There are wine glasses, cognac, beer, champagne, port... . Some glasses are cristal, many are normal factory glass.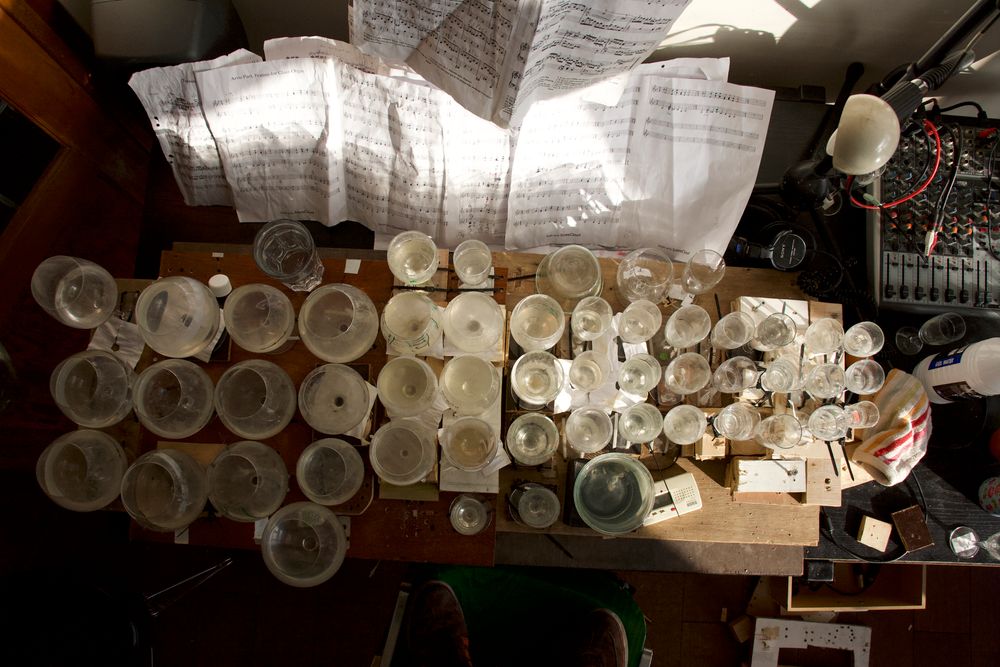 Music
It's a great discovery tour to find out which music fits well to glass. There is some music written for glass, even by composers like Mozart and Beethoven, but it's not much. And actually, my challenge is more to find and re-arrange songs and compositions which were never played on glass before. How would SOS from Abba sound, or Stairway to Heaven from Led Zeppelin. And Cohen,  Brel, the Beatles? And singing with the glasses, how does that sound?
Next to pop evergreens and chansons, I re-arrange work of classical composers for glass: Bach, songs from Schubert, Schumann, and above all the music form the  renowned Estonian composer Arvo Pärt. His pervasive minimalist compositions really seem to fit well to the sound of glass. 
0:00/1:56

0:00/2:44

0:00/0:30

0:00/4:51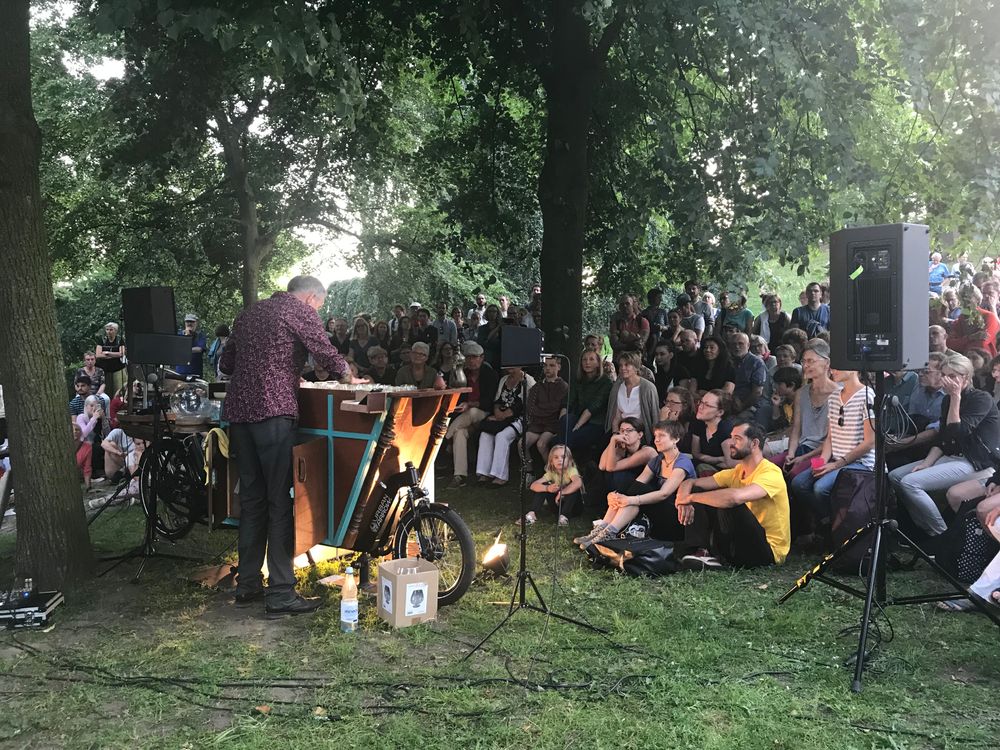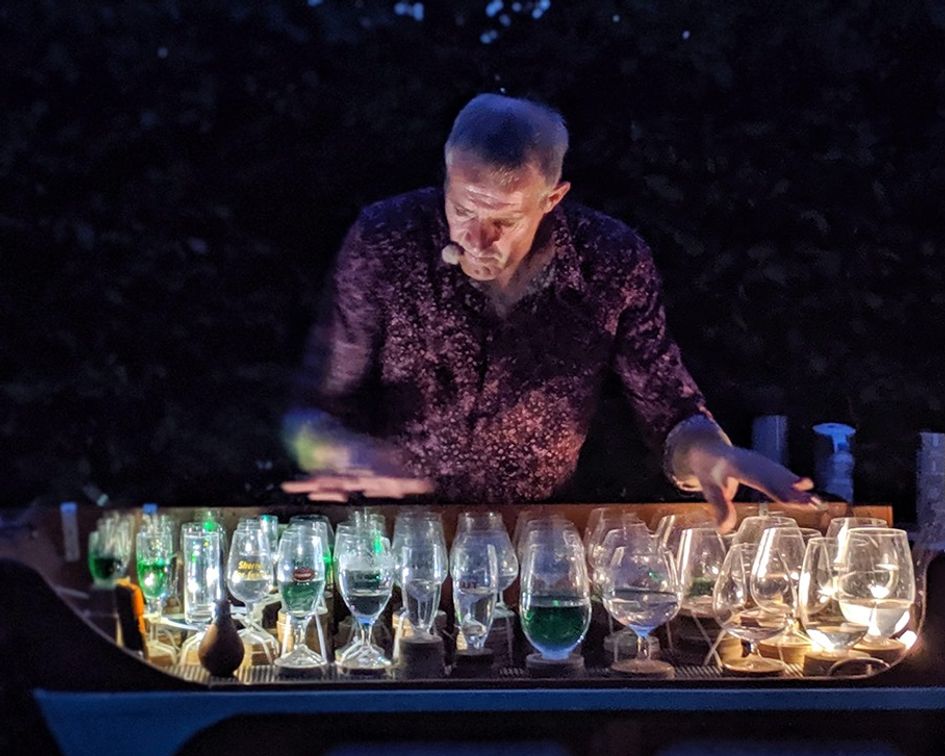 Tour Dates
I don't want anything else anymore, only spin and grind my glasses, and let all and sundry listen to it. Since one year, I am touring the cities and countryside of Europe, having my glass organ build on a transport bike.
I play on many festivals, I joined - among others -  Oerol, Terschelling, La Strada Bremen / Germany, Into the Great Wide Open/ Netherlands, Kleines Fest,  Hannover, International Street Festival  Dubai etc.  
But I also love to play as a busker, just out on the streets, so you might find me next to your grocery store, at the train station,  in front of the IKEA on your saturday out, or in a small off track street in some provincial town.
Tour dates 2022 
27 feb.                      Buitengewoon Festival-diner, NL 
8-10 april               Ieper, Belgie  
20-21 mei.            Arvo Pärt Festival Partpetuum, Delft     
24-25 mei             Cultuurdag VMBO Woerden  
26 mei                     Krang Festival Hengelo, NL  
28 mei                     IJsel theater, Kunst-fietsroute, Olst   
18 juni                     Esens Festival, DU 
24-25 juni.           Kulturpark festival, Gaggenau, DU  
5 juli-31 juli.         Kleines Fest im Grossen Garten, Hannover, DU 
11 juli.                      Kunst fietsroute Berlare, Belgie   
6-7 augustus       Fest der Fantasie, Koningsberg, DU 
19-20 aug.            Potsdammer Schlossnacht, Potsdam, DU 
10 sept.                    Emmen, opening Cultureel seizoen 
17-18 sep.             Out There Festival, Great Yarmouth, UK 
19-23 okt.             Puppet International, Meppel, NL               
18-20 nov.            Avond Filmmuziek, Ziggo Dome, Amsterdam, NL  
30 nov-4 dec      Tollwood Festival, Munchen, DU 
17 dec                      Wintermagie, Overijsse, Belgie
Tour dates 2021 
3-4 sept.                 StadtGrabenfest Wolfenbütel, Duitsland 
20-21 aug.             Potsdamer Schlössernacht, Duitsland 
31 juli / 1 aug.       Fest der Fantasie, Koningswinter, Duitsland 
26-27 juni              Kulturpark Fest, Gaggenau, Duitsland  
6 Juni                        Esens, Duitsland       
Tour dates 2020 
9-12 december     Tollwood Festival, Munchen    
24 okt.                    Rode Bioscoop, Amsterdam               
15-19 okt.              (Canceled) Hapas Route, Puppet Festival   
8 oktober               Speelklok Museum, Utrecht  
4 oktober               Piazza Cultura, Tilburg 
20 september       Rode Bioscoop, Amsterdam  
6 september         (Canceled) Bergfest am Piesberg, Osnabruck 
23 augustus         Hoogte 80, Theaterterras, Arnhem  
28/29-8               (Canceled) Stadtgrabenfest Wolfenbuttel  
14/15-8                (Canceled) Schlössernacht, Potsdam  
1/2-8                     (Canceled) Koningswinter, Duitsland    
13-6                       (Canceled) Kunstfestival Esens, Duitsland 
30-5                      (Canceled) Paderborn, Duitsland  
10/12-4                (Canceled) Ieper, Belgium   
6-4                         (Canceled) Lente festival, Zeist     
16/17-2                 Strtfestvl Utrecht 
27/29-1                 Kulturborse Freiburg, Duitsland
Tour dates 2019  
14-15 december        Scrooge Festival, Arcen    
13 december              Kerstfestival Ettelbruck, Luxemburg    
3 november                Vest in Alkmaar, Alkmaar    
1 oktober                     Live muziek bij Regen, Joris Ivens, Eye              
                                      Filmmuseum, Amsterdam    
20 september            Opening seizoen Delden Klassiek,  Delden    
15 september             Feest Zorgkwekerij Diepenveen               
14 september             Kunstfestival Schiebroek, Rotterdam   
8 september               Noorderparkfestival, Amsterdam    
29 augustus               Nacht van Nunspeet    
26-27 augustus        Paderborn Festival    
25 augustus               Boecult XL, Boekel    
18-28 juli                    Kleines Fest im Grossen Garten, Hannover, 
                                      Duitsland    
29 Juni                        Simmerdeis festival, Drachten    
18-23 juni                  Oerol, Terschelling    
14-16 juni                   La Strada, International Street 
                                     Theaterfestival, Bremen    
9-10 juni                     Kunstfietsroute Deventer    
2 juni                           Art of Wonder Festival, Assen    
31 mei-1 juni             Zwolle Unlimited, Zwolle    
30 mei                        Hoogte 80 Festival, Arnhem    
26 mei                        Het Pioenroos concert, dorpskerk 
                                     Wijnaldum     
25 mei                        Friesch Sraattheaterfestival, Leeuwarden    
18 mei                         Kunsten op Straat festival, Hengelo     
7 April                         Straattheaterfestival, Slot Zeist    
19 maart                    OGO conferentie, Wageningen 
3 Maart                      Torpedo Theater, Amsterdam